Dow Corning Showcases Material Innovations at GILE 2016
Top LED material manufacturer Dow Corning showcased a variety of new silicone-based materials for LED packaging, industrial and street lighting applications at the Guangzhou International Lighting Exhibition 2016 (GILE 2016). This is LEDinside pleasure to have a chance to have an interview with marketing director of Dow Corning Lighting and Electronics, Rogier Reinders, to share the product features and market perspectives.
Rogier Reinders marketing director of Dow Corning Lighting and Electronics. (All photos courtesy of LEDinside)
LED lighting market demand increases in the world. Although the price declines year by year, LED industrial lighting and street lighting market demand accelerated with increasing LED penetration rate. Besides, benefited from energy saving and increasing LED efficacy, people are more willing to use LED lighting. Under the purpose on quality of light, product warranty and lifetime are still receiving market attention. Dow Corning focuses on markets which emphasize high quality of light, offering the materials can be applied at high temperature and having cost effective effect.
"The unique properties and design flexibilities that Dow Corning's silicones offer today's LED lighting designers make this a very strategic market for us", said Reinders. "There are many properties that set our advanced optical silicones apart from conventional materials – most notably their outstanding photothermal stability compared to organic solutions. As a company, Dow Corning further plans to differentiate itself from competitors through its strong commitment to collaborative innovation, worldwide technical service and consistent product quality, as well as our industry-leading intellectual property portfolio."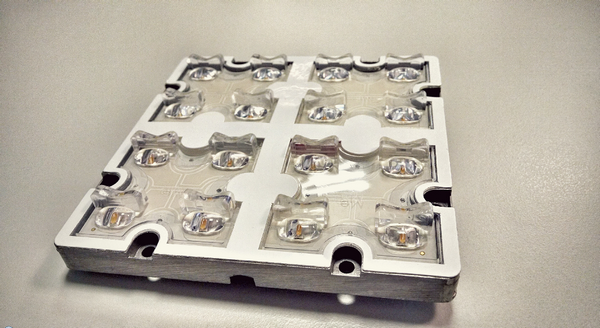 VS Lighting Solutions' M-Class 16-LED array module incorporates four secondary lenses fabricated from Dow Corning® MS-1002 Moldable Silicone. Unlike PMMA thermoplastics, moldable silicone materials used in secondary LED optics are permeable to VOCs.
At GILE this year Reinders presented various examples of how material innovation at Dow Corning is supporting innovation in LED packaging and modules downstream. "We are proving through dozens of new applications each year that higher performance materials can enable smarter designs, ease assembly and help reduce total cost of ownership", said Reinders. "This innovation at the materials level allows our LED lighting customers to differentiate their products, and thrive in a highly dynamic and competitive industry in a sustainable manner".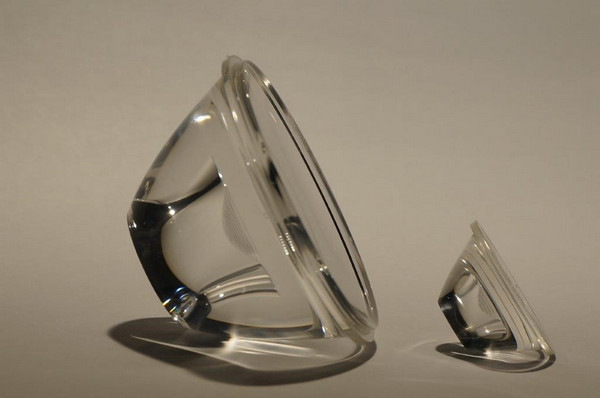 GAGGIONE's 32 mm and 67 mm diameter high-efficiency collimators, made of Dow Corning® MS-1002 Moldable Silicone, allowed a surface geometry impossible to mold in polycarbonate.
One recent award-winning example is Dow Corning® Moldable Silicones, which target applications in LED secondary optics. The highly transparent lenses fabricated with these materials perform more reliably than organic materials when exposed to the rising temperatures and increasing photo-densities common in today's high-brightness LED lamp and luminaires. Their excellent moldability enables unique lens designs that were impossible before, and they can also reduce total cost of ownership by sealing delicate LED components from outside contaminants such as moisture.
"Dow Corning continues to work closely with industry leaders, and will continue to publish various application stories that illustrate the successful innovations our customers are achieving with our silicone-based materials", said Reinders.
Dow Corning's close collaboration with customers has made us intimately aware of the challenges in the growing general lighting market, and we are proactively tailoring our products to meet these challenges. Examples include our Dow Corning® OE-7662 and OE-7651N Optical Encapsulants, which we developed for middle-power LED packaging applications. These advanced silicone materials exhibit a higher gas barrier, which offers improved protection against sulfur corrosion and the discoloration of the silver reflective components in LED packages. Because this can be a leading cause of the decay in optical output for mid-power LEDs, the sophisticated solution is offering customers a uniquely effective option for improving both the performance and reliability of their products.
"The opportunity will be to capture significant unit growth of the general lighting market, while the challenge is to maintain financial momentum amidst the moderating margin growth for LEDs in China", said Reinders. "There is little doubt that middle-power packages are seeing unit growth in China of around 7 percent, and Dow Corning® OE-7662 and OE-7651N Optical Encapsulants – which I mentioned earlier – will help us meet this challenge by offering customers targeting middle-power LEDs enhanced performance and reliability".
"Thanks to the support of our customers and China's LED market, Dow Corning® OE-7662, earned the Most Innovative LED Material Technology Award from OFWeek last year, which we are very proud of. We are continuing to innovate the next generation of this and other optical silicone materials to ensure we retain our edge in serving our customers".
For higher power LED designs, such as COB packages, Dow Corning recently launched another new product – Dow Corning® OE-7340 Optical Encapsulant. The superior thermal stability of this advanced silicone encapsulant helps avoid cracking caused by extended exposure to high temperatures, as illustrated by the picture below which was taken after 144 hours at 250°C.
Dow Corning® OE-7340 with No Crack and Imcumbent Normal RI Product cracked.
"Dow Corning is committed to delivering consistent quality, stable supply, unprecedented technical service and global reach. But another strategically important value we offer customers in China and beyond is the strong protection of Dow Corning's broad intellectual property portfolio", said Reinders. "In addition to ensuring customers receive consistent, high-quality materials with proven performance, the patents protecting Dow Corning's innovative silicone products can often extend to LED products manufactured with them. This elevates our customers' confidence that they can innovate, fabricate and sell truly differentiated LED solutions to in the most dynamically growing international markets", ended Reinders.
Author: Joanne Wu of LEDinside