Application
A backlash-free, high-reduction strain-wave gearbox for an active stabiliser suspension system is being used on select models of a luxury-class vehicle brand.
Faster-acting than typical hydraulically actuated roll stabilisers, the advanced electromechanical design incorporates a strain-wave gearbox, specially developed brushless motor and an electronic controller to influence torque coupling and dramatically reduce rolling movements of the vehicle.

Challenge
To meet a vehicle OEM customer's performance specifications, the manufacturer of the strain-wave gear technology needed an effective lubricant to outperform current PAO-based grease options. Key lubrication criteria included noise-damping capabilities, good lubricity with high-pressure sliding friction, good low-temperature performance, suitable grease mobility, and compatibility with gearbox elastomer seals.
Solution
The manufacturer collaborated with MOLYKOTE ® specialists to identify an effective solution to meet the gearbox lubrication needs. Compared with an initial PAO/ester grease for gearbox lubrication, MOLYKOTE ® G-1074 Grease delivered superior performance. 
The performance properties of MOLYKOTE ® G-1074 Grease compare favourably with those of the initial lubricant option for the gearbox application.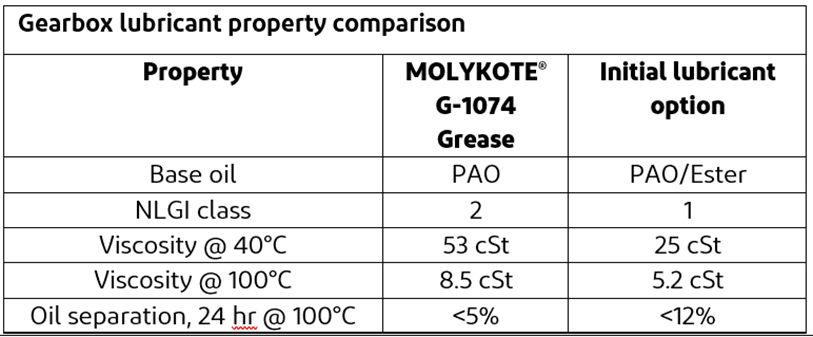 Better noise-reduction capabilities

Reduced friction under extreme pressure at high frequency

Less oil separation

Better oxidation stability

Good lubricity over a wide service temperature range

Excellent compatibility with H-NBR sealing elastomers
Based on gearbox lubrication performance in the vehicle active suspension system, the manufacturer expects to qualify MOLYKOTE® G-1074 Grease for use in other actuator applications for robotics, farm machinery, autonomous vehicles, industrial control technologies and more. Based on industry interest, mechatronic roll stabiliser applications have sizable growth potential across multiple vehicle platforms.
Comparative Performance Testing*